Habit Five Publishing
Welcome to Habit Five Publishing, a Graham Family enterprise. Below are books we have written, designed, illustrated and published since 1999. Tales from the General Store is NOW AVAILABLE. To order a copy, please see below or contact Tom Graham:
This email address is being protected from spambots. You need JavaScript enabled to view it.
. Thank you for your interest.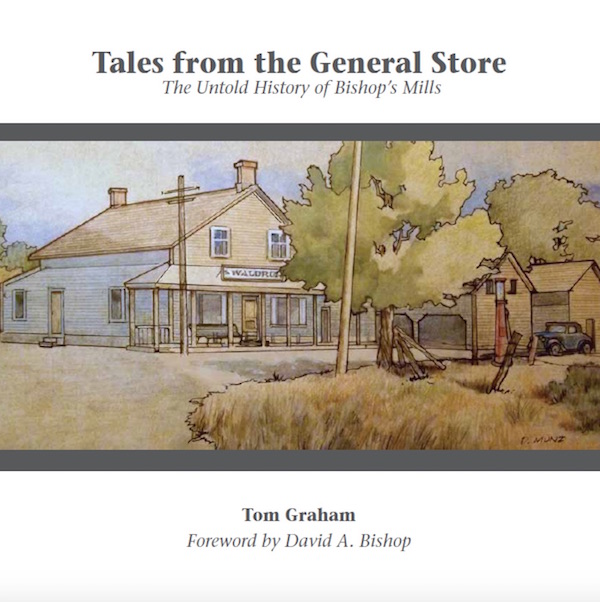 Tales from the General Store
is specifically the story of Bishop's Mills, but will be of interest to anyone curious about life in a small village. It includes eye-witness accounts of major events such as the Cheese Factory explosion, and the Great Fire of 1943, as well as many photos and illustrations never before published. Tom Graham's seven years behind the counter has provided him a unique perspective from which to capture the many tales that have been part of the oral tradition in this community, documented here for the first time.
A must-have for local residents, visitors and people interested in local history. This book will be invaluable to newcomers, plus families and individuals wishing to know more about this small but resilient community.
"…a remarkable piece of work…" David Bishop, Great-great-grandson of Chauncey Bishop
Size: 8.5" x 8.5" (softcover)
Pages: 200 (Full-colour cover, b+w inside)
Cost: $32.50, plus $18.00 shipping
(small parcel, Canada Post, 3 days)
Total: $50.50 HST extra
(For US orders, please contact Tom Graham at

This email address is being protected from spambots. You need JavaScript enabled to view it.

)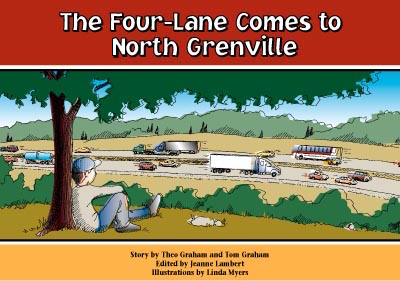 A scrapbook / storybook of how they built Highway 416 – the Veterans Memorial Highway.
From the surveyor's stakes to the ribbon-cutting ceremony, this book tells how a modern four-lane is built. The complex planning and construction process is told in a simple way that is easy for readers of all ages to follow. Artist Linda Myers' simple black-and-white illustrations are the perfect complement to the text. Accompanying the main story are side-bars filled with construction trivia and interesting historical facts. Perfect for kids or adults.
Size: 7" x 10" (softcover)
Pages: 24 + cover
(Full-colour cover, b+w inside)
Cost: $10.00, plus $15.00 shipping
(small parcel, Canada Post, 3 days)
Total: $25.00 plus HST = $28.25 CAD
(For US orders, please contact Tom Graham at

This email address is being protected from spambots. You need JavaScript enabled to view it.

)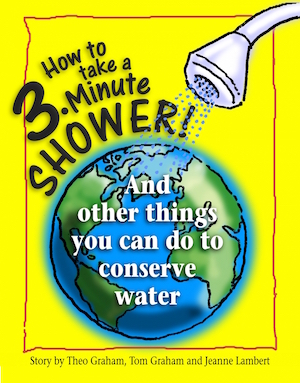 Worried about the long-term effects of over-use of water? Looking for ways to make a difference - think globally - act locally? Got a teenager who spends too much time in the shower? You need a copy of "How to take a 3 minute shower...and other things one person can do to conserve water", by local author Theo Graham.
Using simple graphics to illustrate each point, the book is a good reminder that conservation - especially water conservation - is something we should ALL pay attention to, and that there is always something we can do about it. Instead of just reading about it, you can act on it.
Size: 4" x 5.5" (softcover)
Pages: 20 (Full-colour cover, b+w inside)
Cost: $3.00 plus s&h, and HST